Menu Updated April 26, 2017 – New Items Listed in Blue 
Starters:
Zuppa $8.00 – Tonight's soup
Calamari Fritta $13 – Lightly dusted, crispy fried fresh calamari, plum tomato & lemon
Polpettine dei Bacaro di Venezia $13.50 – Beef & veal meatballs as served in the wine bars of Venice w/lemons, herbs
Antipasti alla Toscana $15 – Fresh Mozzarella, ricotta salata (dried, firm ricotta), house made balsamic pearl onions, red peppers, hot Sopressata, procuitto di parma, aged breasola, and mixed olives 
Polenta e Gorgonzola $11 – Oven roasted polenta cake, Gorgonzola sauce & rosemary
Bruschetta $6.50 – Grilled Tuscan bread, rubbed with fresh garlic, drizzled with Sicilian extra virgin olive oil.
Add tomatoes and herbs – 9.50
Add tomatoes, herbs, and mozzarella – 11.50
Mozzarella alla Milanese $11 – Crispy breaded fresh mozzarella, fried golden brown, drizzled with balsamic reduction and served with a side salad of baby arugula and lemon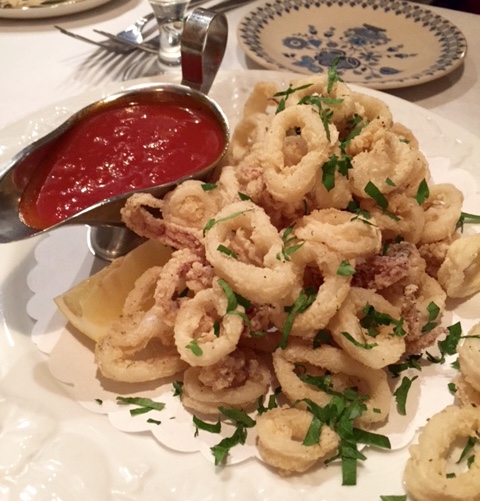 Salads:
Insalata di Melanzana $12.50
Baby arugula topped with grilled eggplant, house roasted red peppers, toasted pine nuts, and ricotta salata (firm, dried ricotta). Dressed in our balsamic vinaigrette.
Insalata alla Griglia $12
Grilled romaine heart with chopped red onions, grape tomatoes, house croutons, and crispy fruitwood smoked bacon. Topped with house made blue cheese dressing.
Insalata Fresca $12.50
Mixed greens topped with grilled pineapple, fresh strawberries, toasted almonds, and a crispy goat cheese fritter. Dressed in our citrus vinaigrette.
Insalata Pera $12.50
Mixed greens with poached pears, dried cranberries, roasted beets, and toasted pecans. Topped with Bayley Hazen blue cheese. Dressed in our citrus vinaigrette.
Insalata Caesar $9.50
Chopped romaine hearts dressed in our classic homemade dressing and tossed with homemade croutons and parmesan cheese.
Insalata della Casa $8.50
Mixed greens dressed in our homemade balsamic vinaigrette. Topped with parmesan cheese.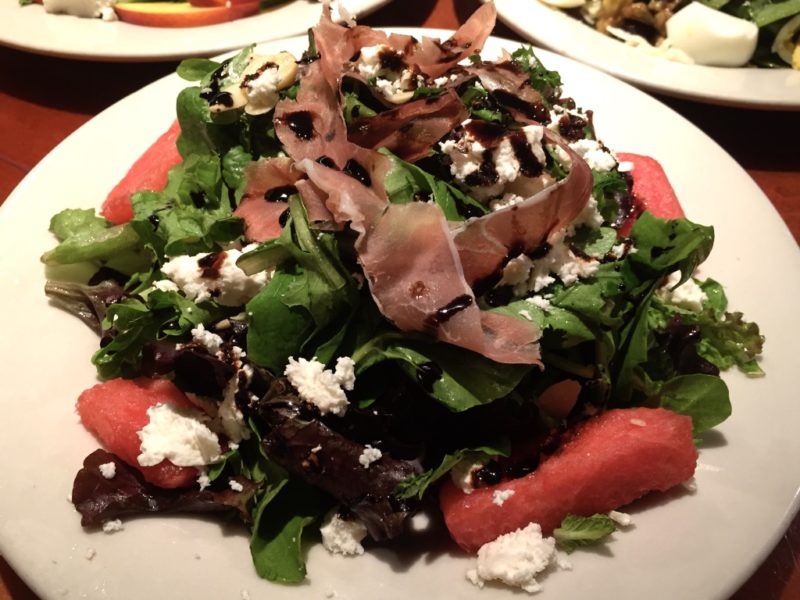 Pastas:
Spaghetti con Frutti di Mare $29
Spaghetti tossed with extra virgin olive oil, garlic, capers, gaeta + cerignola olives with sautéed scallops, shrimp, and calamari. Topped w/ parsley (can be made spicy upon request)
Linguine del la Mar $27
Linguine tossed with sautéed scallops and lump crab meat in a white wine and garlic sauce with Italian artichokes, sundried tomatoes, and sautéed spinach.
Linguine fra Diavolo $25
Linguine with fresh crab meat, sautéed shrimp and asparagus served in our smoked and spicy plum tomato sauce.
Fazzoletti con Carne $24
Homemade fazzoletti pasta (little handkerchiefs) with slow cooked boneless beef short rib, asparagus, fresh mozzarella, and parmesan cheese. Served in a light sauce of white wine, aromatics, and tomatoes. Topped with breadcrumbs.
Penne alla Bolognese $23
Penne tossed with our homemade Bolognese sauce – beef and veal simmered in white wine and plum tomatoes.
Spaghetti alla Caprese $18
Spaghetti tossed with our homemade plum tomato sauce and topped with fresh Mozzarella and basil. Add (3) Polpettine Meatballs- $24
Lasagna della Casa $21
Handmade 3 cheese lasagna (mozzarella, parmesan, and ricotta) layered with our homemade plum tomato sauce. Served with vegetable. (add bolognese sauce $3)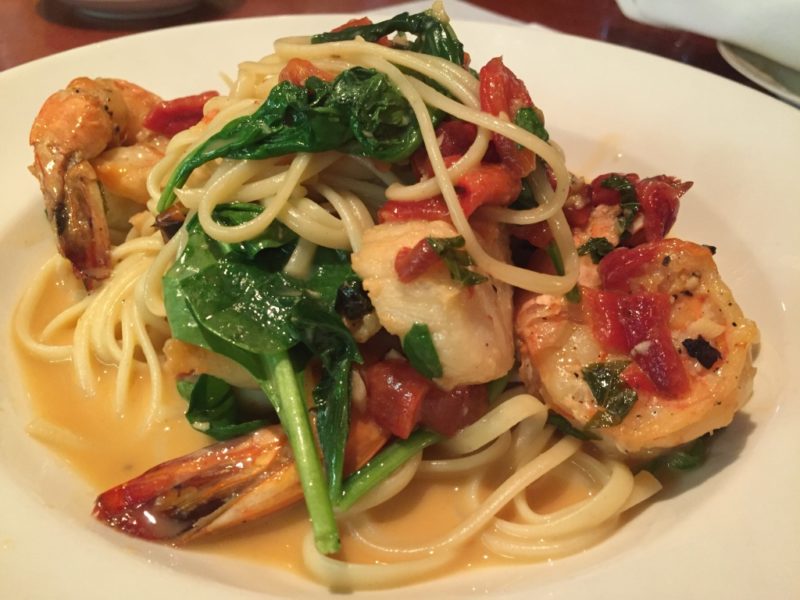 Entrees:
Maiale Incita $27
Grilled Berkshire pork rib chop stuffed with creamy, nutty fontina cheese, caramelized white onions, and button mushrooms. Served in a port wine + raspberry sauce with whipped potatoes + a vegetable.
Salmone $30
Grilled filet of Wester Ross salmon topped with chopped Italian artichoke hearts, grape tomatoes, and capers in a light, fresh citrus sauce. Topped with parsley and served with whipped potatoes + a vegetable.
Pollo alla Marsala $26
Sautéed chicken breasts layered with crispy, breaded zucchini, fresh mozzarella, and aged breasola. Served in a basil-marsala sauce with whipped potatoes + a vegetable.
Vitello alla Saffron $29 – Sautéed veal medallions layered with prosciutto and fontina cheese. Served with sautéed mushrooms in a saffron and white wine sauce with a splash of cream. Accompanied by whipped potatoes and vegetable.
Vitello alla Milanese $29 – Breaded veal sautéed golden brown and topped with a salad of mixed greens, tomatoes, and fresh Mozzarella cheese. Finished with a balsamic drizzle.
Vitello alla "Vodka" $29 – Breaded veal sautéed golden brown and topped with sliced tomatoes and Fontina cheese. Served alongside spaghetti with oil, garlic, and baby spinach. Everything topped with our homemade vodka-blush sauce.